I have started to play around a little more with the placement of items in my composition and having items at different depths of field. Here is one example with a 1942 Civil Guard M39 from the Oulu District as the centerpiece -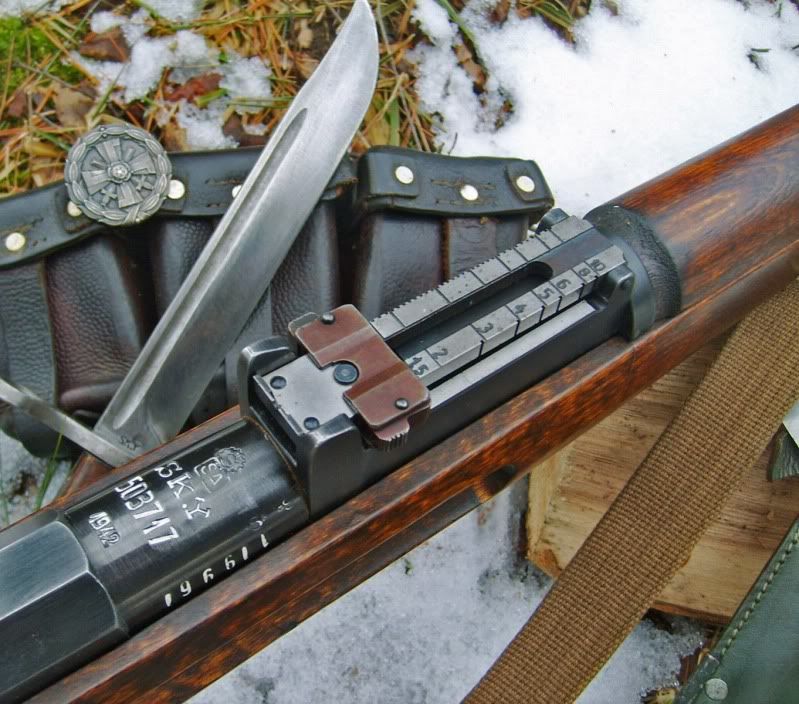 As you can see, in the lower right corner you have the scabbard's edge and the rifle sling forming parallel lines which, it turn, are parallel to the M39 bayonet on the opposite side. The rifle purposefully cuts across these parallel lines and breaks up the overall composition; thus, drawing your eye towards the rifle - the centerpiece. I also have two planes of focus in the composition. What turned out kind of neat is how the Sk.Y. stamp on the rifle's receiver is in focus while the Sk.Y. stamp on the M39 bayonet is out of focus. Finally, I really like the plum color of the rear sight leaf, how it stands out against the silver of the rear sight rail and the bayonet's blade and is closer in color to the rifle's stock.
I know, I know, way too much analysis and way too much time on my hands. Photographing items in my collection just turns out to be a nice surrogate to collecting additional firearms and edged weapons in these financially lean times I am facing. My oldest daughter going off to Cornell this fall has taken a serious bite out of my "discretionary funds" fund
.
Tim